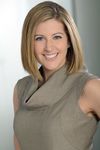 Jenn Farrer
MA, ACC
(Phone) 804-347-2113
As Senior Vice President of Coaching at Rewire Inc., Jenn Farrer connects
growth-minded people and companies with the right coaches for meaningful,
transformative conversations.
After surviving a brain hemorrhage while on a business trip, Jenn was inspired to
help other business leaders become a more positive force in their own lives and
in their companies, families and communities.
Grounded in contemporary neuroscience, Rewire's method for learning and
change helps clients unearth the thoughts and feelings that keep them stuck in
old patterns. With freedom from limiting beliefs, our clients change their hearts
and minds to create a life and career better than they ever thought possible.
Jenn is a NeuroLeadership Institute and International Coach Federation Certified
Coach and an award-winning researcher in the field of communication,
collaboration and influence.