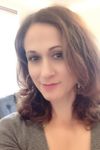 Deborah Berman
RD, CDN
(Phone) 866-251-0061
Deborah Berman is a Registered Dietitian, Certified Dietitian 
Nutritionist who specializes in intuitive eating. She provides realistic 
recommendations that assist with weight loss as well as the treatment of 
medical-related nutrition concerns. Her guidance is focused on True 
Wellness which involves a connection between mind, body and spirit. 
Working with both children and adults Deborah digs into the root of her 
patients' relationships with food and their body to help them discover 
why healthful living may often be sabotaged. Deborah is a Participating 
provider for numerous insurance companies and is an active member of The 
Academy of Nutrition and Dietetics. She is a motivational speaker that 
empowers many to transform their lives.