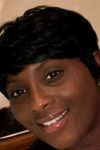 Chivaun Carter
LMSW
(Phone) (631) 320 - 8458
(Fax) (631) 846 - 7665
Chivaun Carter is a Licensed Master Social Worker (LMSW) who works with children, adolescents, seniors and individuals with intellectual disabilities.  Chivaun has a wide range of experience with over 20 years in a variety of settings, diverse cultures and clients.  
Her area of expertise include:
• Program and Workshop Development
• Short-term solution focused counseling
• Community Collaboration
• Anxiety and depression
• Senior Counseling and Advocacy
• MY P.R.E.T.T.Y Girl Empowerment Group
Chivaun graduated from Stony Brook University with her Master's Degree in Social Work and her Bachelor's Degree in Psychology.  Chivaun ensures she is providing her clientele with the best services possible as she regularly attends trainings, seminars and workshops to enhance her skills such as certification from Evergreen Certifications as a Certified Clinical Trauma Professional. 
Whether an organization or an individual, Chivaun believes everyone needs a little helps sometimes.