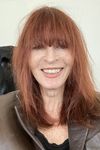 Audrey B. Miller
PhD, LCSW-R
(Phone) 516-381-3624
Practicing twenty-five years as both a psychotherapist and psychoanalyst, I provide both supportive and in-depth treatment. My training as a psychoanalyst allows me to help you find your own life's answers by understanding your repeating emotional patterns that began In childhood. We are a treatment team!
My areas of expertise include all mood disorders, and PTSD as they are linked to a your life's experiences. I work with teens, individuals and couples.
It is with great pleasure that I am a member of the Solutions family .